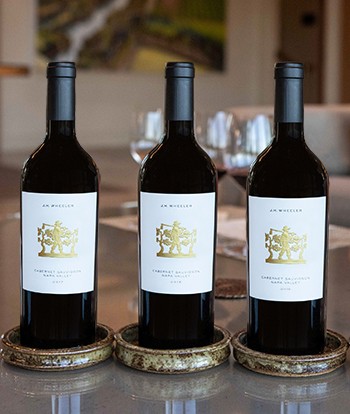 JH Wheeler Napa Valley Cabernet Sauvignon Vertical
Offered at their original release prices, this 3-pack showcases the vintage uniqueness and nuances only found in Napa Valley.
This Cabernet Sauvignon celebrates the diverse richness that is the Napa Valley and our commitment to uphold our common cause of inspiring the senses. The 2019 Napa Valley truly captures the spirit and beauty of this special place. Deep in color with a core of ruby giving way to purple hues, this Cabernet Sauvignon is intensely fresh on the nose. Notes of dark fruit and graphite are lifted by the sweeter scents of toasted spice and fennel blossoms. The freshness of this wine caries forward on the palate with bright acidity that is carefully balanced with textured tannins and rounded mouthfeel.
The 2018 vintage is deep purple in color with a rich nose of boysenberry, blackberry, red plum, cocoa powder, violets and baking spice. Full bodied, firm, fine grained tannin, rounded presence and a long fruit driven finish.
This true Cabernet Sauvignon presents a welcoming aroma of dark and red fruits, chocolate and rose petals with the 2017 vintage. On the palate, the experience includes notes of baking spices paired with black and blue fruits. The wine finishes with balanced flavors and a long earthy, tannin-driven finish.
You know you want to
Sign Up For Our Newsletter
Keep up to date on the latest wine releases, events, and promotions and get 10% off your next order.